12 Jul 2017

6 Office Design Trends in the Middle East for 2017

The way people work is changing. Most employees are used to working in large offices, in cubicles, under fluorescent lighting and at the same desk space every single day. However, several key design trends are leading up to a shift in the way people communicate, collaborate and work in the Middle East and around the world.
1.    Flexible Layouts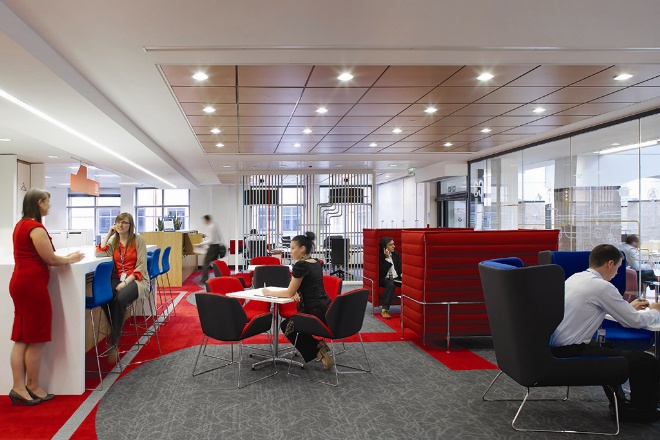 With the rate of development in the UAE, companies expect a rise in workplace productivity. In the ever-changing environment of rapid technological growth, the design of your offices should be dynamic to the demands of today's smart workforce. The interior fit-out should be designed to suit changing requirements. This can be done through a better layout which can be changed according to the needs of the employees or the projects at hand. The choice of furniture should also be made with flexibility and youth in mind.
2.    Movement toward separate, private retreats
The idea of open workplace layouts dates back to 1950s Germany. The idea however took off about a decade ago under the assumption that open layouts breed productivity and teamwork. What started in tech start-ups quickly spread to media, advertising and architectural industries. The idea behind the concept was that tearing down literal barriers within the office will help improve creativity and productivity.
Despite the upward trend, many design houses are now professing the death of the open plan office. What led to the sudden change of heart? The Harvard Business Review conducted research on open office floor plans and found that "there's some evidence that removing physical barriers and bringing people closer to one another does promote casual interactions. But there's a roughly equal amount of evidence that because open spaces reduce privacy, they don't foster informal exchanges and may actually inhibit them. Some studies show that employees in open-plan spaces, knowing that they may be overheard or interrupted, have shorter and more-superficial discussions than they otherwise would."
A better idea would be to create personal spaces around the office instead of a set desk space. This creates a kind of hybrid office where employees have the autonomy to move around during the day. This also means that the concept of personal deskspace is also dying. With laptops replacing desktops and smartphones replacing everything else, it is understood that a productive day does not require being chained to a desk.
3.    Acoustics and Privacy
To find the future, sometimes it helps to look to the past. When the original cubicle was designed by Herman Miller chief executive Robert Propst in 1964, he envisioned it as a personal space where employees could move around. He wanted to 'set-them free'. However, knock off versions of his design led to the rows of drab cubicles that are the staple of corporations around the world. When employees shared their discontent over these dreaded cubicles, it made sense for organisations and designers to drop them completely.
With the proliferance of open office space the human need for privacy became even more resurgent. Offices are gradually moving towards the fundamentals of office productivity that were made possible by the cubicles. We don't suggest ditching open plan offices entirely. It will benefit employees, however, if workers have the choice that match their work preferences and workplaces that employ different task-based work spaces.
4.    Productive Well-Being Design
Well-being of your taskforce manifests itself in higher productivity and a generally happier working environment. The best interior designers and contractors will ensure that employee health and well-being remains a prime focus in your project. Ideas like sit-stand desks, separate areas for collaboration and private work, comfort while sitting in front of the computer, external and internal airflow, vibrant yet congenial lighting solutions, and greenery contribute to a positive outflow of energy and ideas.
5.    Greenery
Creating green spaces is an idea that will never lose its significance whether it is interior fit-out or exterior construction. While once, plants strewn around the office were enough to placate the masses, offices are now moving towards integration of green walls and space in their fit-out designs.
The benefits of greenery in office design have been well-documented. We have noticed interior fit-out contractors focusing on greenery with the outside coming in and the use of biophilia creeping into office design in the Middle East.
6.    The workplace of the future
The United Arab Emirates is the fastest growing country in a rapidly growing region. Whatever design concept you work with needs to be future-proof. Everything from the lighting equipment and the artwork on the walls to the elements to nature can promote well-being, happiness and creativity within the working environment.
Depending on the unique needs of your industry and organization your interior designer and fit-out contractor can introduce customized shapes and features. Overall, well-being and comfort rule supreme.
Contact Eire Gulf for a full evaluation of your current office design and consultation for the office of your future.